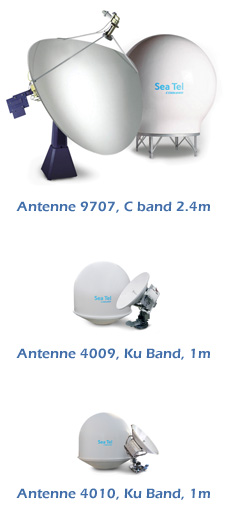 Seatel is the world's leading manufacturer of marine stations; it offers the largest selection of stabilized antennas (reflector size of 0.4 m to 2.4m, C-band and Ku band). The antennas may be associated with a wide range of RF equipment and integrated by into a system by Seatel.
Through its history, Seatel has gained an impressive number of distributors and installers throughout the world.
According to the operational marine environment to be served, whether it be :
River boat cruising along the coast
Or by type or location of offshore oilrigs: supply boats, jack-up drilling platforms, semi-submersible drilling rigs, tankers, container transport, etc.
The availability of local skills
There will always be a Seatel antenna that will optimise the investment providing that the full knowledge of operating conditions is available.
The models are selected according to experiences gained in the field. We consider these antennas as "all purpose", whatever the quality of the marine site to be equipped; it will be possible to adapt it to the local conditions.
To date (2010), there is still some difficult for the field engineer or crew if an adjustment needs to be refined.
Among the Seatel range of models, LCDC has selected :
For stabilised stations the use of the series 09, 10 and 97
TVROs, the model 5004