Effet d'un Chiffrage
sur la QoS en VSAT
TÉLÉCHARGER 

Sécurité des informations
dans un modem satellite
TÉLÉCHARGER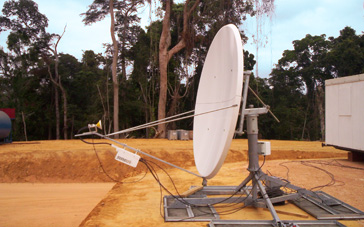 LCDC has been offering Ku Band VSAT networks for the African continent for more than 7 years.
This choice is contrary to the opinions of other operators. They advocate the use of C-band, which is less sensitive to heavy rainfall in tropical regions.
Our choice has proved to be justified over the years for various reasons which are explained below. Today, more and more networks in Africa: regional or intercontinental are operating satisfactilary  in the Ku band. Dozens of sites with a gateway to Europe, and operating in Ku band in the tropical region of Africa are supervised directly for clients or to other operators by LCDC SA.
Economic criteria:
Ku-band equipment is cheaper.
It is smaller and easier to deploy than C-band equipment where the logistics in some notoriously difficult areas in Africa.
Technical criteria:
The power of satellites poperating in the Ku-band has increased significantly and also more numerous to give better coverage of the region: The EIRP (equivalent isotropic radiated power) and the figure of merit G / T (System Noise Temperature) regularly reach values of 6-8 and 48-52 dBW dB respectively.
The sensitivity of receivering equipment (Eb/No) has improved to 10-12 dB from 3-5 dB,
There is more choice of manufacturers in this band for amplifiers (BUC).
Advances in the compression algorithm to allow satisfactory voice conversations despite the error rate during high interference. A link with a BER (Bit Error Rate) of 10-4 now allows audible conversations, whereas a BER of 10-6 / 10-7 was previously required.
A reflector antenna has a gain higher gain (+8 dB) in the Ku band oposed to an antenna of the same diameter in the C-band.
. …
Local context and operational:
The application in this band is a growing market for TV transmission: TV receiving antennas (Ku band) installed in an uncontrolled manner can only be small. VSAT segment "Narrow Band" (the activity of private networks of gridded LCDC) then benefits from this development.
It is the same for VSAT equipped ships, where space on the top deck is very limited. A Ku-band antenna will always be lighter and less cumbersome than a C-band antenna of the same performance (Radome 2m compared with a radome 6 m)
The availability of the VSAT link is strongly affected by external constraints such as unreliable primary power sources, difficult access to sites, lack of local skills, etc. ..
The difference in availability of a network operating in the Ku band (99.4%) or the C-band (99.5%) is thus very small.
Our networks can have a backup link in the L-band using the new network services such as Inmasart, Iridium and Thuraya for emergency during heavy rainfall. These equipments are now at very reasonable prices.
Spectrum Resources rare.
We believe that the C-band will come to the fore for terrestrial links, the frequency band is already allocated to technologies such as WiMax, cellular, radar marine .. pose problems of increasingly frequent and uncontrollable interference.
The ITU responsible for the frequency assigment on a global level can only give that spectrum resource to the cheaper technology which is more accessible to the public. A VSAT network providing for example: a single Internet connection of 1024 kbps is 3 to 10 times more expensive than a WiMax radio to a local supplier.
The number of satellites in a geostationary orbit is a limited spectrum resource and can be shared in a single location. It appears evident that the use of Ku-band and Ka-band has become increasingly numerous and technologies will evolve to accept climatic constraints affecting radio propagation in tropical areas.
Today the demand for spectrum resource space is growing, it is not uncommon for more than 3 or 4 satellites in less than 2 degrees of longitude. Mobility and nomadism requiring the use of smaller antennas, but they must be of high gain to minimize interference to the illumination of satellites. The use of frequencies in the higher bands with increasing antenna with a constant diameter of the reflector is a solution to be considered.
We believe that technological solutions exist but they are facing economic problems for their fast implementations: the design of a satellite is based on a lifetime of 15 years, its technology allows markets and equipment (technology) to exist for the duration of the satellite, however this may not cover the investment of the satellite. Any new technology of satellite modem can only reduce their profitability.