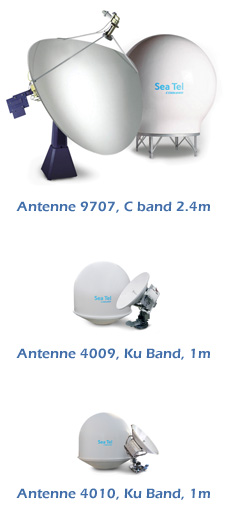 Cobham Satcom is the world leading manufacturer of marine stations. With the Seatel and Sailor brands they propose the widest choice of stabilized antennas (reflector sizes from 0.4 to 2.4m, in C-Band and Ku-Band). These stations can be associated with a large choice of RF hardware, and integrated by Sailor or Seatel. By its history, Cobham Satcom has an impressive number of resellers and installers worldwide.
Depending on the maritime environment:
Cruise ships, along rivers or coasts
Or depending on the type or localisation of offshore fields: supply boats, drilling jack-ups, semi-submersible platforms, FPSO, tankers, containers transports, etc.
Availability of local technical skills
…
There will always exist a Cobham Satcom antenna that will allow the optimisation of the investment if the complete knowledge of the exploitation conditions is available.
These models are in constant evolution, based on field experience.
We consider these antennas as « all-roader »: whatever the quality of the marine site, it will be possible to adapt it to the field constraints.
Among the Cobham Satcom models:
VSAT stabilized stations, LCDC has selected the uses of models from the Sailor series 600 and 900, Seatel series USAT30, 4009 and 6012
TVRO, the model 5004 and Sailor 90