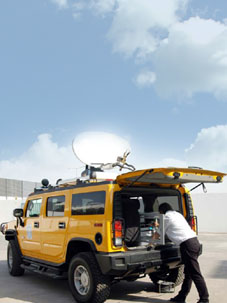 The choice of a VSAT network is often characterised by a need for rapid deployment with an upgrade of facilities in operational condition.
VSAT stations are available in mobile e.g. on a vehicle: SNG, light portable compact units for easy transportation or so that the equipment can be easily assembled at the operation site.
But in many cases, offering a product that is tailored to these specifications can be difficult.
LCDC has the expertise to integrate the various elements that make up the VSAT (Indoor and Outdoor Equipments) to an appropriate adaptation to the constraints of resources and transport conditions (weight, dimensions, type of transportation).
The system is designed to be operated without special expertise and flexibility to integrate easily into various networks.